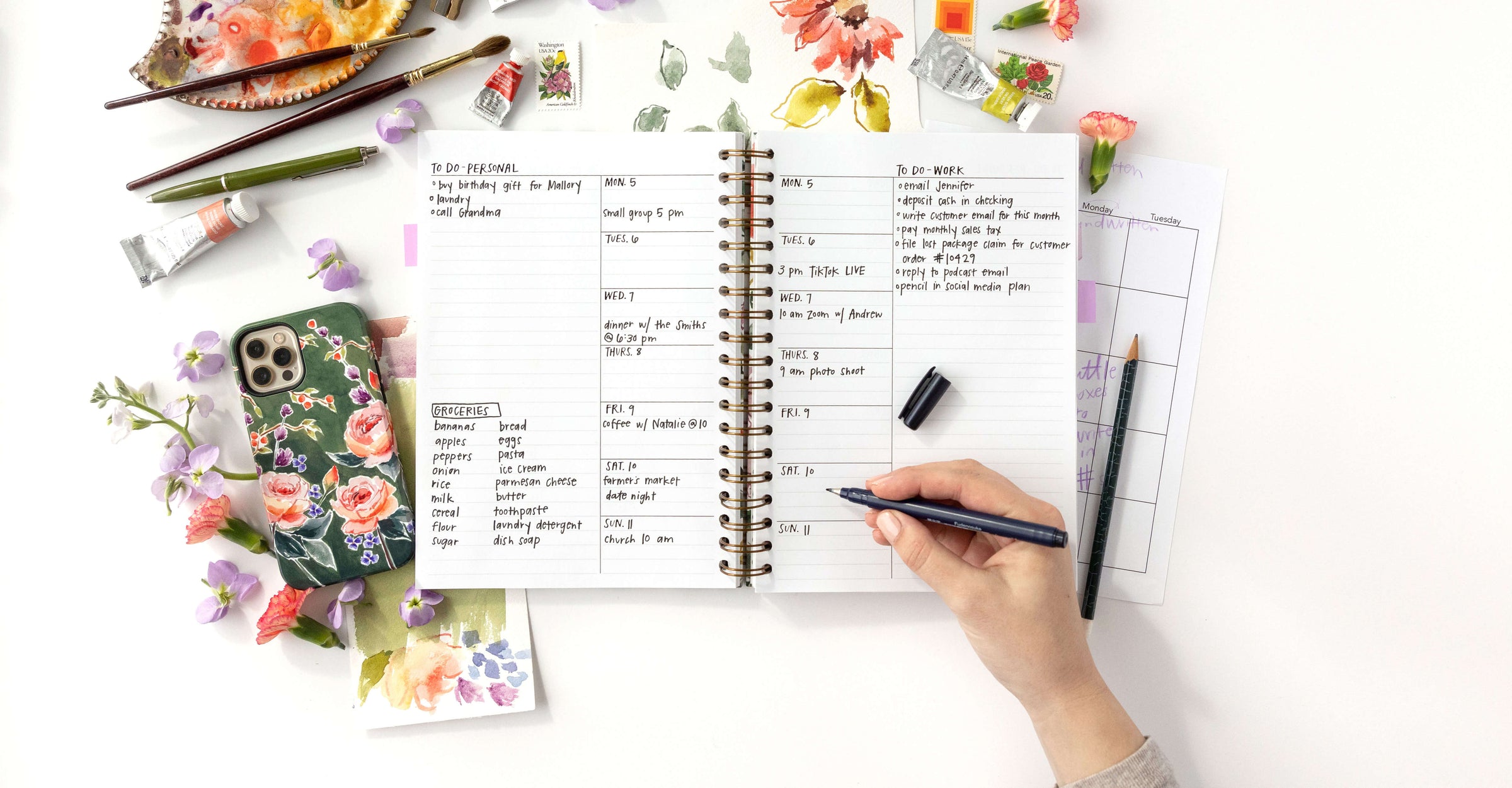 Sommer Letter Co. planner guide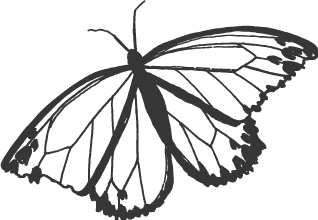 personal and work life balance in a book
A simple planner setup with personal and work life organized all in one place.
what's inside the Sommer Letter Co. planner?
52 weekly spreads
One spread = one week. The left page is for keeping track of your personal life, and the right page is for keeping track of your work life. 
The idea is that you can have separate spaces for storing all of your personal tasks and your work tasks. Everything is stored in one book, but not jumbled together.
12 monthly spreads
A year's worth of big-picture planning. All the monthly spreads are at the beginning of this book in case you decide to go rogue and skip a month or a week. Your undated planner won't get wildly off track, even if you do.
3 repositionable tabs
These tabs snap into the binding of your planner and easily keep your place. We suggest using one to mark your monthly calendar overview, one to mark your weekly spread, and one to mark your place in the notebook.
They are made of a transparent material so you can still read your entire spread even with a tab in use.
undated for extra flexibility
If you've ever spent big bucks on a beautiful planner only to have it expire on your shelf, this planner is for you. This planner was designed to be used at your own pace. Some weeks you may have a lot on your plate, and other weeks you may find you don't use your planner at all. That's cool. You can still use every page in this book, because you get to write in the dates as you go. 
don't take our word for it. see what our customers think:
★★★★★

I love this planner like no other. I am picker than picky when it comes to my planner and this is beyond perfect!!!

sierra h.
★★★★★

I have used quite a few different planners that have been "fine" but this one is "exceptional". It hits all the points I didn't even know I needed. I love the separate sections for personal and work. The generous amount of note pages is fantastic, and the first time I've actually used them in a planner. It's so beautiful and every tiny detail is so thoughtfully designed. I can't imagine buying any other planner anymore!

l.h.
★★★★★

I absolutely love my planner! Not only is it beautiful, but it is fun getting to personalize it exactly how I want it. Kyle seems like an incredible person and I will definitely buy here again.

shelby n.
frequently asked questions
Not currently. We'd like to offer more planner formats in the future, but manufacturing is expensive. We intend to offer more options with each edition! This is our second edition, and we've expanded from 3 cover options to 5 cover options.
One of the advantages of this planner setup is that it's undated, so you can use it at your own pace. If the monthly spreads were inserted throughout the year, you wouldn't be able to skip a week without messing up your planner's format. Keeping them in the front keeps your planner flexible!
Not yet! The heart and soul of our business celebrates color and flowers, but we've heard your requests. You might love our setup, but you're not into florals. We're hoping to add a simple linen cover option in the future. Feel free to email us hello@sommerletterco.com to let us know you'd like to get notified about a plain cover launch.
Our first edition planner was made in the USA, but we were really limited in how we could (or could not) customize the books. In order to source higher quality binding materials, consistent paper stock, and custom tabs, we had to move production overseas. We're really thrilled with the result, and hope you will enjoy the upgraded materials!